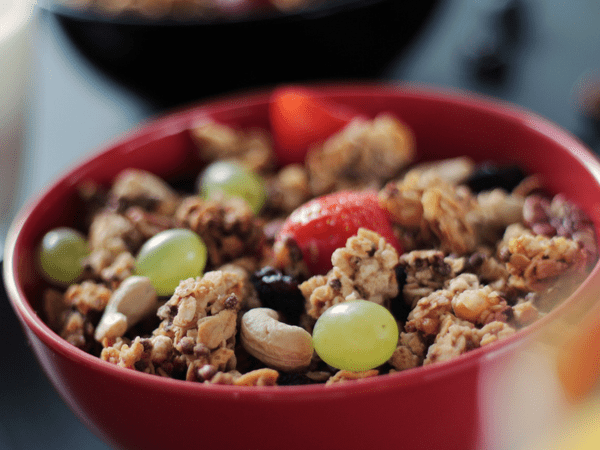 The two most common obstacles to maintaining a healthy diet are time and money. Pricey specialty grocery stores and complicated recipes can make healthy eating seem costly and time-consuming. For the average American, time and money are tight, which is probably why 31 million Americans skip breakfast each day.
However, breakfast is the most important meal of the day and is crucial to giving you energy throughout the morning. So why do so many people skip breakfast?
Time is a big factor. If your household is anything like mine, then you're rushing out the door each morning, and breakfast doesn't always fit into that equation. Unfortunately, convenient and prepackaged breakfast options are often packed with sugar and fat.
How can you ensure you get a healthy breakfast each morning? This quick and easy granola bar recipe is simple to make and is a fraction of the cost of pre-made granola breakfast bars. The recipe makes approximately 10 bars — enough for two work weeks' worth of breakfast on the go. The best part about this recipe is that these are no-bake granola bars, requiring little time and effort to make a delicious, nutritious breakfast.Here's what you'll need.
Tools:
8x8-inch pan
Parchment paper
Plastic wrap
Mixing bowl
Cooking pot
Ingredients:
1 ½ cups rolled oats
1 cup roasted nuts
¼ cup natural peanut butter
¼ cup honey
1 cup raisins
Instructions:
Stir together oats, nuts, and raisins in a mixing bowl. Set aside.
Line an 8x8-inch pan with parchment paper.
Heat honey and peanut butter in a pot over the stove. Stir frequently until warm.
Pour honey and peanut butter into the dry ingredients. Mix together thoroughly and pour into the lined pan.
Cover with plastic wrap and place in the fridge for 20 minutes until firm.
Remove from pan and slice into bars. Store in a sealed container in the refrigerator.
If you're constantly on the go trying to make ends meet, eating a healthy breakfast may not be your top priority. I hope this recipe helps simplify the process of starting each day with a nutrient-packed meal. Adding a healthy breakfast to my day has helped give me the energy I need to power through my daily responsibilities. For more money-saving tips, check out the .
*Loan Amount is subject to loan approval. Loan terms and availability may vary by location.  Approval rate based on complete applications received across all Cash Store locations. Customers can typically expect to receive loan proceeds in less than 20 minutes; however, processing times may vary.
Loans / Advances are provided based on approved credit. Cottonwood Financial uses a proprietary model to evaluate the creditworthiness of each applicant for credit. Vehicle is subject to evaluation for title/auto equity loans. Please see the Licenses and Rates page for additional product details.
Cottonwood Financial offers consumer credit products that are generally short-term in nature and not intended for long-term borrowing needs. In Texas, Cash Store is a Credit Services Organization and Credit Access Business. Loans are provided by a non-affiliated third-party lender. 
Customer Portal residency restrictions apply. Availability of funds may vary by financial institution.