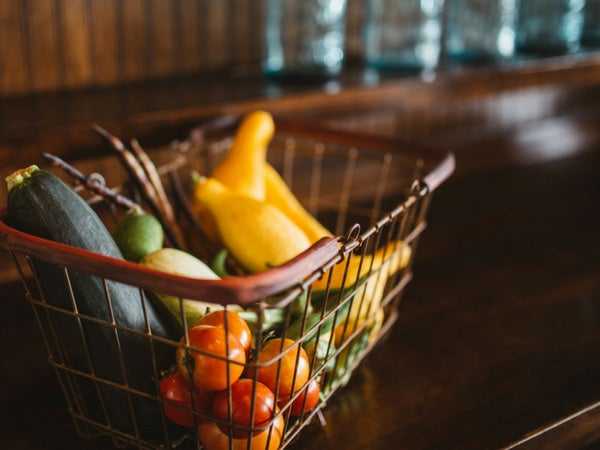 As a mom, I want my kids to grow up eating foods that are good for them. However, many healthy or organic products are so expensive – I just can't work them into my limited budget, or so I thought.
For many years, I let that excuse determine the quality of food we ate as a family. Recently, I decided our family needed to make our health a priority. That's when I realized eating healthier doesn't have to be pricey. There are so many healthy foods you can buy for so little.
Before we get to my typical grocery list for my family, here are a few helpful tips for saving money on healthy food.
Tips for Saving Money on Healthy Foods
Shop generic and store brands. Generic and store brands are often significantly cheaper than brand-name foods. Many people assume this means the quality of food is lower. However, generic brands are often manufactured by the exact same companies, meaning the food is the same. Try different generic brands to see which ones taste best. They will definitely save you money on your grocery list.
Purchase frozen fruits and vegetables when possible. Contrary to common belief, frozen fruits and veggies contain the same nutritional value as fresh produce. Be careful not to buy frozen produce that contains added sugar or gravy. The benefit of frozen produce is that it lasts longer, so you don't have to worry about it going to waste.
Purchase food in bulk. Buying individually packaged foods can be more convenient for on-the-go meals and snacks, but buying in bulk is significantly more cost-effective. Things like yogurt, crackers, juice drinks, and nuts all come in both individual and bulk packaging.Purchase the bulk products and then divide them into single servings in baggies or Tupperware.
Plan out your meals. When it comes to meal time, playing it by ear can end up being wasteful. Instead, meal planning will help you buy exactly what you need and no more. Plan out daily meals for the entire week, including snacks for the kids.
Eat leftovers. While you're planning out your meals, factor in leftovers. If one dinner will last for two nights, don't buy food for seven different dinners. Instead, plan out larger meals that will last for multiple days. That way, you won't waste ingredients, and you don't have to cook every night.
Inexpensive Foods That Give You the Biggest Bang for Your Buck
While the above tips can help you consolidate your grocery list and make foods last longer, it's also important to be aware of the foods that simply cost less. Planning out meals that contain high-dollar ingredients won't help you save money. Here are a few of my favorite affordable ingredients that can easily translate into delicious meals for the whole family.
Bananas - $0.50/ pound
Bag of dried beans - $1.50/ bag
Frozen mixed berries - $3.00-4.00/ bag
Frozen vegetables - $3.00-3.50/ bag
Rice - $3.30/ 5-pound, store-brand bag
Baby carrots - $2.00/ bag
Whole grain pasta - $2.00/ box
Bulk oats - $4.00/ 42-ounce canister
Yogurt pint - $2.00-3.00/ pint
Bulk potatoes - $2.55/ 5-pound bag
While these may not make up an entire grocery list, they are the staple items I typically go for on my weekly grocery run. Not only are they healthy and affordable, but they can create entire meals that will last multiple days.
Learning how to shop smarter for healthy foods my entire family enjoys has completely turned around our eating habits. More than anything, following a more regimented meal plan has saved us so much money from not eating out on a regular basis.
I hope these tips help you implement healthy eating into your budget. For more money-saving tips, check out our blog.
*Loan Amount is subject to loan approval. Loan terms and availability may vary by location.  Approval rate based on complete applications received across all Cash Store locations. Customers can typically expect to receive loan proceeds in less than 20 minutes; however, processing times may vary.
Loans / Advances are provided based on approved credit. Cottonwood Financial uses a proprietary model to evaluate the creditworthiness of each applicant for credit. Vehicle is subject to evaluation for title/auto equity loans. Please see the Licenses and Rates page for additional product details.
Cottonwood Financial offers consumer credit products that are generally short-term in nature and not intended for long-term borrowing needs. In Texas, Cash Store is a Credit Services Organization and Credit Access Business. Loans are provided by a non-affiliated third-party lender. 
Customer Portal residency restrictions apply. Availability of funds may vary by financial institution.