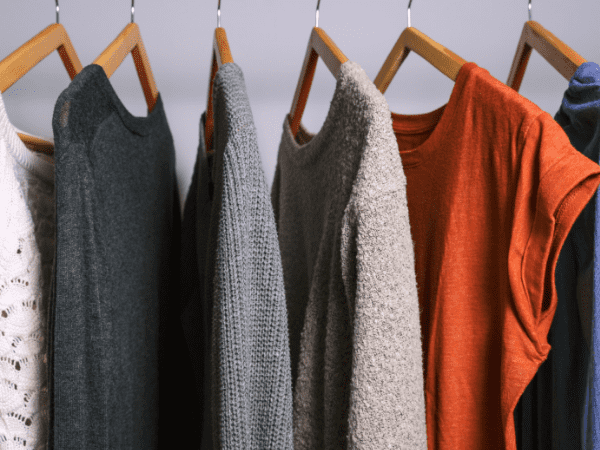 Capsule wardrobes are at the forefront of the minimalist fashion movement. From tiny homes and monochromatic designs to decluttering frenzies and multipurpose clothing, the themes of intentional purchases are spreading throughout the retail industry. Minimalism can help reduce clutter and spending – and a capsule wardrobe is a great place to start.
What is a Capsule Wardrobe?
Susie Faux, London-based fashion consultant and author, coined the term "capsule wardrobe" in the 1970s. She described a capsule wardrobe as a minimal collection of clothing containing staple pieces in coordinating colors to mix and match throughout the season. The trend didn't catch on in the United States until the 1980s when Donna Karan launched her Seven Easy Pieces collection.
Faux recommended less than twelve items make up a wardrobe, but today's capsule fashionistas own up to 30 to 40 items, not including accessories, undergarments, and shoes. The goal is to have several high-quality clothing items that can be worn interchangeably to save time, money, and closet space. For many, a capsule wardrobe provides the freedom to spend more time and energy on experiences instead of deciding what to wear, shopping, or doing laundry.
Creating a Capsule Wardrobe
The challenge of doing more with less is a good exercise in creativity and intentional decision-making. It can reduce the urge to buy new items on a whim and allow you to spend your money on more important purchases. We've consolidated the process to help you create your own capsule wardrobe.
Let Go
The first step is to let go of pieces that don't serve your daily lifestyle. There is no room for clothes that don't fit, are worn out, or haven't been worn in over a year.
Take everything out of your closet and lay it on your bed. Beginning with an empty closet is the key to the decluttering process. Look at each item and place it in one of four piles: love it, like it, donate it, or trash it. Further pair down your choices by creating a list of necessities.
Your capsule wardrobe should contain tops, bottoms, outerwear, dresses or suits, and shoes. Pajamas, exercise apparel, accessories, swimsuits, and underwear don't count toward your 30 to 40 capsule pieces.
If you still have too many items, look at your remaining piles and ask yourself:
Have I worn this in the past year?
Will I wear this again in the next three to six months?
If I saw this in the store today, would I buy it?
Can I pair it with at least five other pieces in my wardrobe?
If you answer no to any of these questions, put it in your donation pile.
Play Favorites
Your remaining pieces should be your favorites – ones you get excited to wear and make you feel good when you have them on. They should fit your lifestyle and body in the present moment.
After you've paired down your closet to 30 to 40 items, wear only those pieces for one season. Many items will be staples throughout the seasons, while others may be filtered in and out based on the time of year. Reassess your wardrobe each season, putting non-seasonal items in storage, getting rid of unworn pieces, and adding an item or two for the new season.
Choose Quality over Quantity
When selecting items for your capsule wardrobe, it's important to pick high-quality pieces. If you struggle with spending money on high-quality clothes and regularly opt for cheaper pieces, think about the longevity of the item as an investment. A $5 top might seem appealing, but when it tears or shrinks after a few washes, you will find yourself buying more tops to replace it. Investing in a $30 top that pairs with five outfits and lasts for three years is a much more cost-effective purchase.
Look for versatility. The quality of an item increases with the number of ways it can be worn and pieces it can be paired with. Look for neutral colors as they are easiest to mix and match.
Wearing the same thing multiple ways is no longer a fashion faux pas. Many highly successful people wear the same thing daily. Steve Jobs wore a black turtleneck, Mark Zuckerberg has a signature grey T-shirt, and Obama regularly wore blue and grey suits during his presidency.
Creating a capsule wardrobe takes time and planning, but the benefits outweigh the hassle. Not only will you spend less time struggling to decide what to wear, but you will feel more confident when you are happy with every item you put on – and know your money was well-spent on quality pieces. For even more money-saving tips, check out the  Cash Store blog.
*Loan Amount is subject to loan approval. Loan terms and availability may vary by location.  Approval rate based on complete applications received across all Cash Store locations. Customers can typically expect to receive loan proceeds in less than 20 minutes; however, processing times may vary.
Loans / Advances are provided based on approved credit. Cottonwood Financial uses a proprietary model to evaluate the creditworthiness of each applicant for credit. Vehicle is subject to evaluation for title/auto equity loans. Please see the Licenses and Rates page for additional product details.
Cottonwood Financial offers consumer credit products that are generally short-term in nature and not intended for long-term borrowing needs. In Texas, Cash Store is a Credit Services Organization and Credit Access Business. Loans are provided by a non-affiliated third-party lender. 
Customer Portal residency restrictions apply. Availability of funds may vary by financial institution.