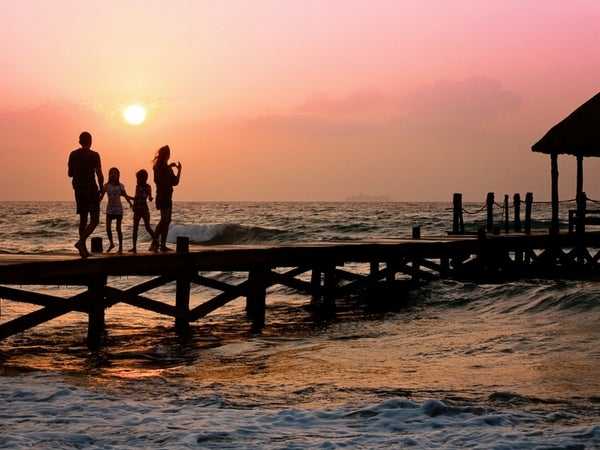 If you are beyond stressed about money, odds are you aren't following a budget. Creating a budget isn't winning any awards for being the most enjoyable activity, but it's definitely worth your time and effort. Having a budget can help you take control of your money and be more conscious of how you are spending.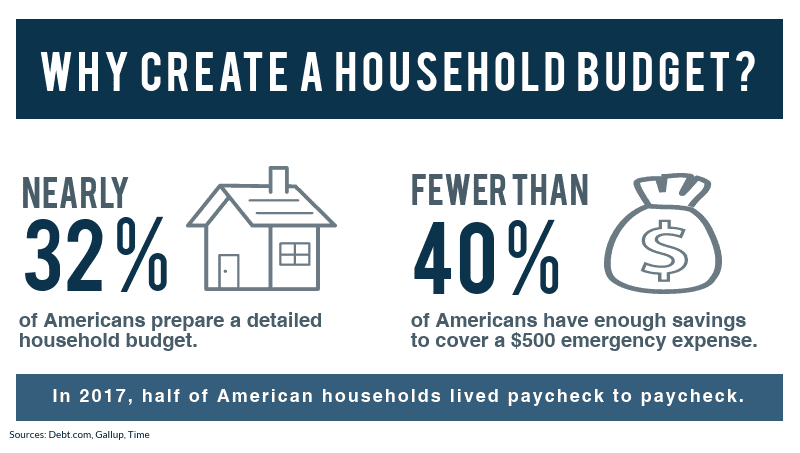 Explain to your family that following a budget isn't a short-term game; you should set a realistic budget that can be applicable for the long term. Keep in mind, you still need to routinely check in to see if and where you should adjust.

7 Steps to Set a Household Budget
1. Monitor Prior to Setting
Before you and your family set out to make a budget, see where you currently stand. Monitor your spending for a couple of months prior to setting a strict budget. This way, you can learn where most of your money is naturally going and where you will most likely need to cut back.
For example, you might be thinking you can't possibly reel in your spending any more in the eating out category, whereas in reality, your teen has been splurging on a high-priced coffee drink every morning. Once you know where you currently stand, you can go to step two.
2. Have an Open Discussion
Budgeting can be more challenging if your family members prioritize their spending differently. Have an open, honest discussion prior to making a budget. While one family member might choose to eat out more, the other might be a thoughtful saver and prefer saving money for a vacation. It's important to know these things before creating a budget so everyone is heard and is part of the process. It's crucial to have buy-in from everyone so that you can work toward the same goal.
3. Set a Specific Goal
You should work together to set a goal with everyone in agreement. There is no point in setting a goal if the whole family won't work to achieve it. Common goals that families make include getting out of debt, saving for a vacation, or starting a college fund. There isn't a right or wrong goal, it's just important to make one.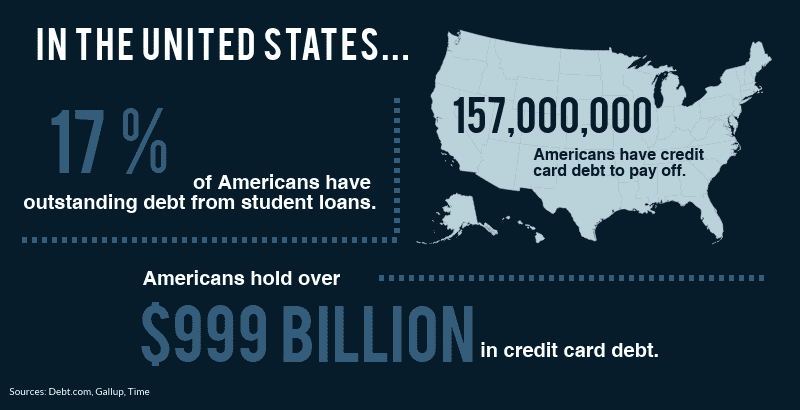 4. Record the Goal and Budget
Many families might say they are "budgeting" when they really aren't. When you don't have it written down, it typically just means you are trying to save money. Recording the numbers and looking at them head-on will make a huge impact and improve your chances of success.
5. Factor Every Recurring Bill into the Budget
When setting your budget, be sure to include your bills and account for that money first. Review your bills from past months and use the highest bill when setting that category's budget. While you are reviewing your bills, see if you are overspending in any areas or if you absolutely need that service. Many services are known for lowering bills if you call to ask for a loyalty discount or tell them you will have to cancel. Hey, it's worth a shot!
6. Put Money Aside for Discretionary Spending
Budgets typically won't be followed if you don't have any wiggle room for spending on fun things. Giving each family member a small allowance will help everyone feel in control and a part of the budget. Keep in mind that discretionary spending is often when the most money is wasted, so make sure your discretionary spending budget is based on activities or purchases that are priorities to you or your family.
7. Set Check-Ins and Celebrate Your Successes
When you are continually working toward financial freedom, it's important to stop and celebrate your accomplishments. Give yourself permission to do a happy dance or have a delicious dessert as a family. Just make sure your celebration doesn't undo all your hard work!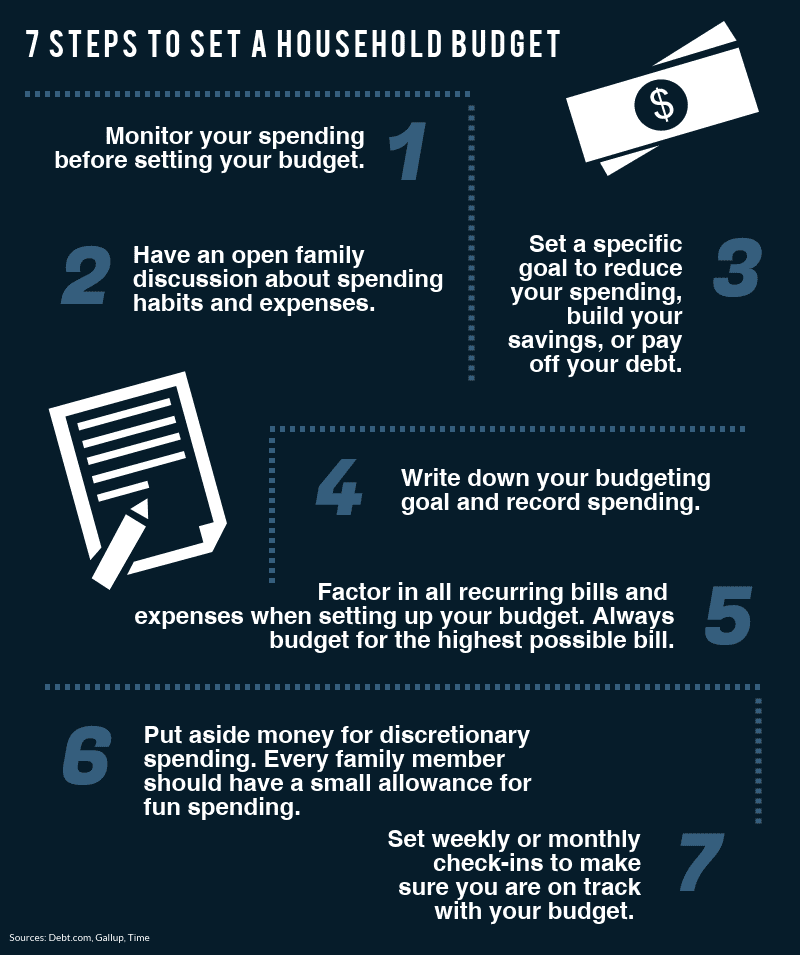 Common Areas to Cut Back On
Families are unique when it comes to their budgets. However, there are typically common areas where most families could improve their spending habits.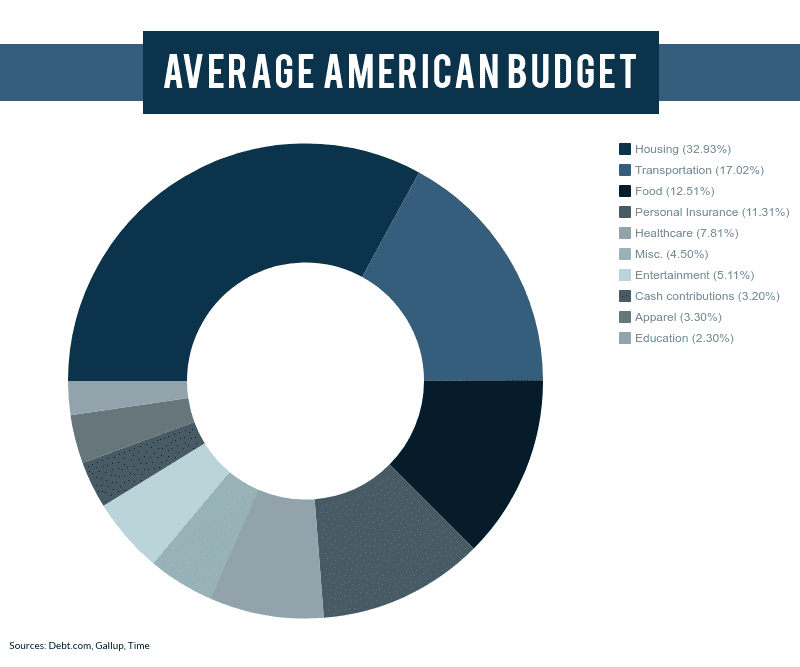 The average American household spends the most on housing, transportation, and food. These are important areas to put most of your budget toward. However, other areas like apparel, entertainment, and personal care could be lowered with some careful consideration.
1. Entertainment
There are plenty of entertainment options and activities you can do without spending a dollar. Subscribe to newsletters around your neighborhood, follow relevant Facebook pages in your community, and talk to friends to stay alert to free activities.
2. Apparel
Apparel costs can be lowered if you take good care of your current clothes. Always follow the label instructions and put items away as soon as you are done wearing them. It's also wise to not buy the super trendy outfit or accessory—stick with the classics and you can wear them for years to come.
3. Personal Care
Personal care is very important; however, there are ways to take care of and pamper yourself without paying an extreme amount. Consider what you appreciate the most and if you can get the same result in less costly ways. If you are known to get a manicure often, consider painting and doing your nails yourself. Or, if you enjoy a trip to the spa, turn your bathroom into a spa with some delicious candles and cucumber water and give yourself a good soak.
Recording Your Budget
Back to my point of writing it down: it doesn't matter how you record your family budget, as long as you do. There are many free available spreadsheets you can use. Or, if you would rather use a mobile app to track, check out .
*Loan Amount is subject to loan approval. Loan terms and availability may vary by location.  Approval rate based on complete applications received across all Cash Store locations. Customers can typically expect to receive loan proceeds in less than 20 minutes; however, processing times may vary.
Loans / Advances are provided based on approved credit. Cottonwood Financial uses a proprietary model to evaluate the creditworthiness of each applicant for credit. Vehicle is subject to evaluation for title/auto equity loans. Please see the Licenses and Rates page for additional product details.
Cottonwood Financial offers consumer credit products that are generally short-term in nature and not intended for long-term borrowing needs. In Texas, Cash Store is a Credit Services Organization and Credit Access Business. Loans are provided by a non-affiliated third-party lender. 
Customer Portal residency restrictions apply. Availability of funds may vary by financial institution.