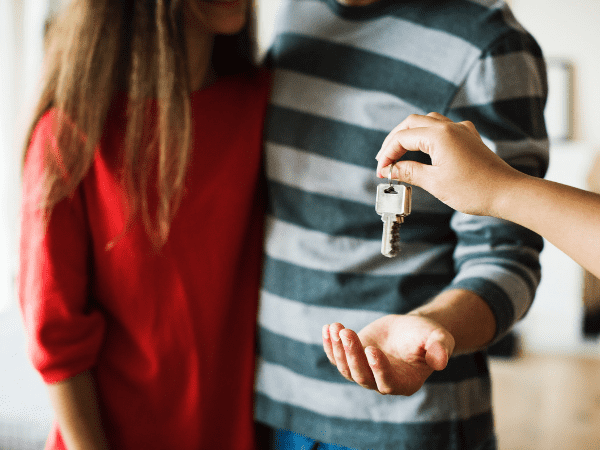 Buying your first home is a big decision — one that should not be taken lightly. While home ownership is important to many people and seen as a huge milestone in adulthood, it's important to make sure that it's the right financial decision for you. Never jump into buying a home too early or without the proper financial backing. There can be serious consequences of homeownership if you aren't prepared.
Maybe you feel like you're ready to buy your first home now. Maybe you're just starting to think about it and want to know what steps you can take over the next few years to be financially prepared. No matter your situation, these simple steps can help ensure you're ready to buy your first home and set you up to do so in a cost-effective way.
Step One: Determine Whether You are Ready to Buy a Home
There are many financial and lifestyle factors that can determine whether it's the right time for you to buy a home. The first is how long you plan to live in your house. Experts recommend that you live in a home for at least five to seven years. Otherwise, it's much more likely that you will lose money when it comes time to resell.
The second thing to consider is your . When applying for a mortgage, your credit score will determine the interest rate on your loan. A credit score above 740 is considered excellent and will get you the best interest rates on a home loan. If your credit score is below 700, take some time to and improve your credit score before applying for a mortgage.
Finally, consider the cost of being a homeowner and decide whether you are financially prepared to cover the monthly expenses of owning a home. Keep in mind your total monthly housing payment, including mortgage, property tax, and homeowner's insurance, should be below 30 percent of your gross monthly income.
If your timeline, credit score, and monthly income all put you in a good place to purchase your first home, you're ready to move on to step two.
Step Two: Determine Your Price Range
Your monthly home expenses should never be more than 30 percent of your gross monthly income, but it's smart to buy less than you can afford — especially with your first home. Many first-time buyers make the mistake of buying too much house, when they don't actually need it. Buy for the home you need now, not the home you might need 10 years from now. Chances are, you won't ever use the additional space, and it will cost you in the long run. If, in five years, you need more space, you can always upgrade when you're ready.
While mortgage payments and property tax are important to consider, the most costly and difficult part of purchasing a home is often the down payment. First-time home buyers can typically find down payment assistance that will provide down payments as low at three percent. However, be careful. A low down payment yields a higher interest rate and monthly mortgage payment. Even if it takes years to save up, it's highly recommended that you put a minimum of 20 percent down on a house — no matter what down payment assistance you may be eligible for.
A higher down payment allows for lower monthly payments and gives you a greater chance of coming out in the green when it comes time to resell. If you are struggling to come up with 20 percent on your dream home, look for the worst house in the best neighborhood. If you can find a slight fixer upper in a great area, you can get an affordable home that has potential to appreciate in value over time, as long as you are willing to make a few renovations or updates.
Once you decide on a price range that suits your immediate and long-term financial needs, you can start saving.
Step Three: Save
Even if you're financially prepared to be a homeowner, most people still need time to save up for the initial costs, including a down payment and closing costs.
A down payment can be any amount between 3.5 and 20 percent of your home's purchase price, depending on your mortgage. However, you should aim to save 20 percent for a down payment. In addition to the down payment, there are a variety of closing costs you must be prepared to pay in cash. These can include prepaid expenses, utility adjustments, cash reserves, and realtor payment. Closing costs are typically two to three percent of the purchase price, meaning you should actually save roughly 1.5 times your anticipated down payment.
Saving up for a house can take a few months to a few years depending on your current income and expenses. The best way to save up for a house is to and designate a monthly amount that you will put toward your savings.
Step Four: Get Pre-Approved for a Mortgage
When you've worked so hard to save up for your first home, you may be excited to get started on home tours and open houses — but don't start house hunting just yet!
It's important to get pre-approved for a mortgage before you start shopping for houses. That way, if you do find the perfect house, you won't have to worry about missing out on a deal due to processing your mortgage approval. Pre-approval make you more competitive against other bidders, so it's important that you don't skip this step.
Step Five: Find a Realtor
The best way to find a realtor is through recommendations. Ask your trusted friends and family members who they worked with when purchasing their home. Don't be afraid to interview a few realtors to find the perfect fit.
Working with a realtor can help you find the perfect home in your price range. They will take into consideration any important factors you're looking for in a home, including school district, neighborhood, proximity to your work, and likelihood of appreciating value. They can also negotiate the terms of your offer and sale. Since many people don't understand the ins and outs of the real estate market, it's safer to leave this business to a professional you can trust.
Step Six: Conduct an Independent Home Inspection
You've found your perfect home and you're ready to put in an offer — now it's time to conduct an independent home inspection. The seller will typically conduct a home inspection before sale, but it's important that you do one on your own to find any hidden damages or potential costs that could prevent you from buying the house, such as mold, termites, foundation issues, or a bad roof. If your inspector comes back with issues, you may be able to negotiate the price to compensate for the cost of repairs.
Upon the completion of the home inspection and after you put in your offer, you will enter escrow, where all of the proper documentation is compiled to complete the sale. Finally, once everything is finalized, you will sign on your new home and close the deal!
If home ownership is something you've always dreamt about, you can make it a possibility, but be sure to go about it in a financially sound way. We hope these six steps help you on your journey to buying your first home. For more financial planning and budgeting tips, visit the Cash Store blog.
*Loan Amount is subject to loan approval. Loan terms and availability may vary by location.  Approval rate based on complete applications received across all Cash Store locations. Customers can typically expect to receive loan proceeds in less than 20 minutes; however, processing times may vary.
Loans / Advances are provided based on approved credit. Cottonwood Financial uses a proprietary model to evaluate the creditworthiness of each applicant for credit. Vehicle is subject to evaluation for title/auto equity loans. Please see the Licenses and Rates page for additional product details.
Cottonwood Financial offers consumer credit products that are generally short-term in nature and not intended for long-term borrowing needs. In Texas, Cash Store is a Credit Services Organization and Credit Access Business. Loans are provided by a non-affiliated third-party lender. 
Customer Portal residency restrictions apply. Availability of funds may vary by financial institution.