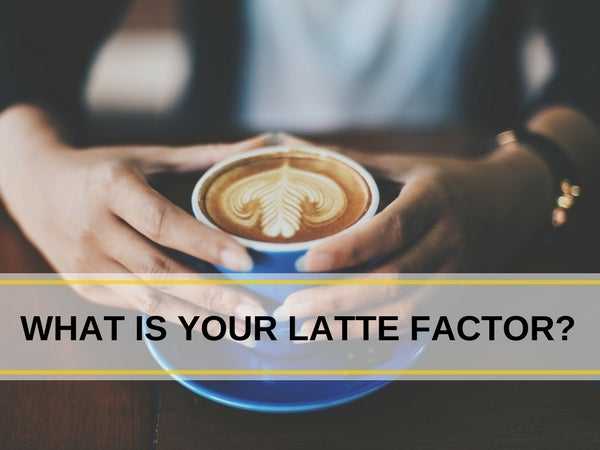 The 'Latte Factor' is an idea first coined by financial advisor and author, David Bach. People usually think that wealth is determined by income, but it's actually more dependent on everyday spending habits.
I'm a responsible spender; I try not to make unnecessary large purchases or charge things I can't pay for in cash. However, I do enjoy little expenses throughout the week. While those everyday expenses seem harmless, they can impact your monthly budget significantly. Little expenses like your morning latte, eating out, going for drinks with friends, or buying snack out of the vending machine, really do add up over the year. If you were to cut out those small expenses, over time you could save up for more important things that may seem unattainable now.
Small Expenses That Add Up
So, what is a 'latte factor?' If you typically buy your morning cup of coffee to-go, you could save money by switching to home brewing. Other latte factors could be gas money and transportation fees, eating out multiple times per week, or shopping for unnecessary clothing and accessories.
Small daily expenses may seem insignificant, but they do add up over time. One recent study found that the average American spends $3,008 per year eating out, which comes out to $250 per month. If you were to save that money, you could save $15,000 in just five years - which could be a sufficient down payment for a first-time home buyer.
According to Bloomberg, the average American household has roughly $16,000 of credit card debt alone. Cutting back on just a few weekly treats can help you save up the money you need to put towards paying off debt and loans.
What Could You Afford with Your 'Latte Factor?'
While lattes and eating out are enjoyable, there may be more valuable things you could spend your money on. If you're struggling to save up for future expenses, but don't feel like your income allows you to save money quickly... think about how you spend your money each week. Then think about whether those things are more important than buying a new car, enjoying a nice vacation, owning a home, saving up to have a baby, or finally getting out of debt.
Below are just a few examples of things you can save up for with the money you would usually spend on something small like a latte. While some items would take years to save up for, others can be achieved in just a few months of giving up your daily latte. The numbers in the graphic below are based on a medium or 'grande,' flavored latte from Starbucks, which typically costs about $4.45.

I hope this helps you think of new ways to create more financial freedom within your budget. To help you manage your everyday expenses, check out this article on our favorite budgeting apps.
*Loan Amount is subject to loan approval. Loan terms and availability may vary by location.  Approval rate based on complete applications received across all Cash Store locations. Customers can typically expect to receive loan proceeds in less than 20 minutes; however, processing times may vary.
Loans / Advances are provided based on approved credit. Cottonwood Financial uses a proprietary model to evaluate the creditworthiness of each applicant for credit. Vehicle is subject to evaluation for title/auto equity loans. Please see the Licenses and Rates page for additional product details.
Cottonwood Financial offers consumer credit products that are generally short-term in nature and not intended for long-term borrowing needs. In Texas, Cash Store is a Credit Services Organization and Credit Access Business. Loans are provided by a non-affiliated third-party lender. 
Customer Portal residency restrictions apply. Availability of funds may vary by financial institution.